Mahanadi Drainage System
From the Sihawa hill near the famous Mahanadi Dhamtari of Chhattisgarh, crossing Bilaspur district flows from south to north, flows from west to east and falls in the Bay of Bengal due to the state of Orissa. The total length of Mahanadi is 851 km, 286 km in Chhattisgarh. Its flow zone in the region is in Dhamtari, Mahasamund, Durg, Raipur, Bilaspur, Janjgir-Champa, Raigarh and Jashpur districts.
---
Shivnath River
The origin of this river lies in Palabras hill, 624 meters high in Ambagad tehsil of Rajnandgaon district. It flows northwards to a distance of 40 km from the source point of the river and merges in the Mahanadi near Shivri Narayan, flowing east of the district. Shivnath river forms 3848 sq km in Rajnandgaon district and 22484 sq km of catchment area in Durg districts. Half, Agar, Maniyari, Arpa, Leelagar, Khakhra, Kharun, Jamunia etc. are its major tributaries.
---
Tahanda River
This is the main auxiliary river of Shivnath. His birth place is in the hill of Bhanupratappur tehsil of Kanker district.
---
Hasdeo River
It originates from Ramgarh near Koriya Hill in Manendragarh tehsil. Shrivanarayan, flowing through the Champa, is found in the Mahanadi in a distance of 8 miles. In this area, a multi-purpose project named as the highest and the smallest hasdeo Bango of the state has been constructed at about 10-12 km from Kataghora.
---
Kharun River
Durg migrates from the south-east of the district and travels 80 km north to Simga near Shivnath on a place called Somnath. It produces 19980 sq km in river Durg district and 2700 sq km in Raipur district.
---
Jonk River
It runs from Mahasamund hill station and flows in Raipur district on the east side of the Mahanadi near the Shravinarayan near the southern bank of the Mahanadi. In Raipur district, its catchment area is 2480 sq km.
---
Parry River
Found in the Raipur district of Bindranvagad near Bhindgarh hill (493 m), in the southern part of the Raipur district, there is a river in the Mahanadi near Rajim. In the Raipur district this river produces a drainage area of 3000 sq. Km.
---
Maand River
This river originates from the northern part of Mainpart plateau of Sarguja district. Then, in the Gharghoda and Raigad tehsil of Raigad district, it is found in the Mahanadi near Chandrapur, situated in the eastern part of Janjgir-Champa. Kurukut and Koiraj are its tributaries. Its flow area is redundant and sanded. In Raigad district, this river covers 14 km. Where it produces 3233 sq km and 800 sq km of the catchment area in Sarguja district.
---
Eb River
Its origins are from Khurja hill in place of PandarPatt in Jashpur district. Mahanadi's main auxiliary river is According to the shield, from north to south, flowing in Jashpur district, entering the state of Orissa, it is found 10km east of Mahanadi in the place called Hirakand. Myna, Donkey, its main tributaries are Its catchment area is 250 sq km of Sarguja and 3546 sq km of Raigad district.
---
Kello River
Its origins are from the Loudag hill in Ghodhoda tehsil of Raigad district. In Gharghoda and Raigad tehsils, flowing north from south to the south, the mercury becomes merged in the place called Mahadev Pali of Orissa state.
---
Borai River
This river originates from Korba Plateau. This river merged further into the Mahanadi flowing south from the originating site. Shivnath is the main auxiliary river.
---
Dudh river
It originates from Malakkundam hill, which is about 15 km from Kanker, which flows eastwards and joins in the Mahanadi.
---
Ganga runoff system
About 15 percent of the state is expanding the Ganga drainage system. Under this flow area, 5 percent of Bilaspur district, 14 percent of Raigad district and 8 percent of Sarguja district falls. Son is its main river in the state, which flows from the Banjari hill area of Pendra Road tehsil and flows from east to west, crossing Madhya Pradesh and Uttar Pradesh and joining river Ganges. Kanhar, Rehind, Gopad, Banas, Bijal are its other tributaries.
---
Kanahar River
This river originates from Khokiya Plateau, a hill called Bakhona, situated in the northwestern part of Bilaspur district. Its origin site is 1012 meters high. Flowing north from here, Samari tahsil creates a 60 meter high closet waterfall. After this it is found on the border of Shahdol and Satna districts in Son river. This river creates 3030 sq.km area in Sarguja district. Sindur Ghalfula, Datram, Pengan etc. are its major tributaries.
---
Rihand River
This river originates from Matringa hill, 1088 meters high near Matringa in Sarguja district. Flowing north from its place of origin, this creates Sarguja Bessin. That is why he is called the lifeline of the Sarguja district. It is the largest (145 km) river in the runoff order.
---
Godown Runoff System
Godavari flows from Maharashtra's southern state of Chhattisgarh after reaching 1067 meters high in Trimbak, Nasik district. Known as 'Ganga of South', this river forms 4258 sq km in Bastar district of the state and 2558 sq km in Rajnandgaon district and flows in about 40 km long distance. Its main tributaries are: Indravati, Shabri, Ankita, Koti Tiger, Orange, Murri, Gudra, Kobra, Stank and Shankni etc.
---
River Indravati
It is the Chief Assistant of Godavari and the largest river in Bastar district. Its origin originated from the Kalahandi Plateau of Orissa state. Moving about 370 km in the Bastar district of the state, flowing east to west, it merge into Godavari. This river creates chitrakot water-proof in the west about 35 km away from Jagdalpur.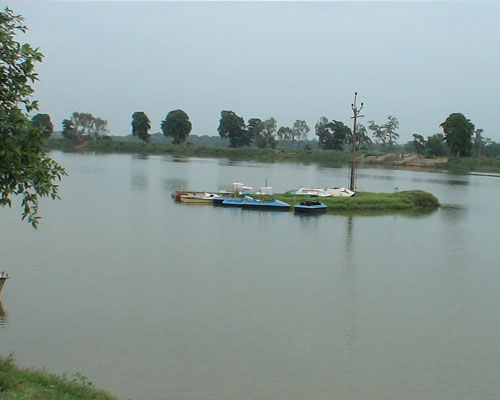 ---
Kottari River
It comes out from the high land of the river Durg district and gets in the Indravati river in Kanker district. Its highest runoff area is in Rajnandgaon district.
---
Shabri River
Its origin lies in Balladila hill near Dantewada, which flows in the southern eastern boundary of Bastar and is found near Godavari near Kunvanam in Andhra Pradesh. In Bastar district, it flows in the length of 150 km. This creates 5680 km of the catchment area.
---
Dakini and Shankhini River
These are the main tributaries of Indravati. The origin of the river Dankini is the Dangri-Dongri and the river Shankini, origin of the Beladila hill. In D, ntewada these two rivers get together.
---
Bagh River
The origin of this river is from the Plateau located in Rajnandgaon district. This river forms the boundary between Chhattisgarh and Maharashtra states.
---
Narangi River
It originates from Kondagaon tehsil of Bastar district. And merges in the house of Anandvati near Chitrakote falls.